introduction
「ぐでたま」は、2013年(ねん)にサンリオから誕生(たんじょう)したキャラクターで、「やる気(き)のない卵(たまご)」がモチーフとなっています。
"GUDETAMA" is a cartoon character produced by Sanrio Company, Ltd. in 2013, and an "unmotivated egg" is a motif of "GUDETAMA".
無気力(むきりょく)である様子(ようす)を、日本語(にほんご)では「ぐでっとしている」、「ぐでぐでしている」というので、「ぐでぐで+たまご=ぐでたま」というわけです。
"GUDETAMA" is a combination of two words, "GUDE-GUDE" and "TAMAGO".  GUDE-GUDE + TAMAGO = GUDETAMA!!!
We describe the lackadaisical attitude as "GUDE tto shite iru" or "GUDE-GUDE shite iru" in Japanese. That is why its name is "GUDETAMA".
一言(ひとこと)で言(い)えば、ぐでたまは怠(なま)け者(もの)の卵(たまご)なのです。
In a word, GUDETAMA is a lazy egg.
GUDETAMA words
それでは、ぐでたまの特徴(とくちょう)がわかる言葉(ことば)をいくつか紹介(しょうかい)します。
Here are some words you can figure out the characteristics of GUDETAMA.
【Left】 Meh… I'm tired…
【Right】 I don't feel like doing anythiiing. Whateverrrr.
【Left】 I don't want to do anything.
【Right】 Cold… (GUDETAMA uses a bacon as a blanket.)
【Left】 Backstroke 【Middle】 Crawl
【Right】 Exercise ball / Balance ball
【Left】 Hey… No, no… don't take me anywhere.
【Right】 I'll get serious starting next year. (This is a New Year's Day comment.)
GUDETAMA books
自分(じぶん)の気持(きも)ちに正直(しょうじき)なところが、ぐでたまの魅力(みりょく)であり、かわいいところです。
GUDETAMA is very honest with its own feelings, and that's the most lovely (KAWAII) point of GUDETAMA I guess.
ぐでたまの言葉(ことば)や行(おこな)いを取(と)り上(あ)げた本(ほん)をいくつか紹介(しょうかい)します。
Here are some books covering GUDETAMA's words and deeds.
Moreover GUDETAMA published English conversation book.
GUDETAMA in abroad
ぐでたまは、最近(さいきん)、海外(かいがい)でも人気(にんき)が出(で)ています。さらに、ユーチューバーでもあるんです!
GUDETAMA has become popular overseas as well, and what's more GUDETAMA is a YouTuber!!!
————————————————————
some videos have English subtitle. Enjoy!!! 🙂
● GUDETAMA TOPICS ●
GUDETAMA on the wall street journal ☜ Must See!!!
GUDETAMA in Singapore and Taiwan
Sanrio characters overseas ranking
————————————————————
my GUDETAMA routine
毎朝(まいあさ)、「あさチャン」という情報番組(じょうほうばんぐみ)でぐでたまのアニメが30秒(びょう)流(なが)れるのですが、放送時間(ほうそうじかん)が朝(あさ)早(はや)いので、平日(へいじつ)5日(か)分(ぶん)のアニメを週末(しゅうまつ)に見(み)ています。
Every morning there is a GUDETAMA anime for 30 sec in the TV program named "Asa-chan", but its broadcasting time is early so I watch 5 days (weekdays) GUDETAMA anime on every weekends.
癒(いや)しのひとときです。
It's my healing time.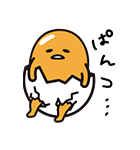 my resent episode of GUDETAMA
昨日(きのう)、スーパーに行(い)ったら、ぐでたまが納豆(なっとう)とコラボしていました!
Yesterday I found at the supermarket that GUDETAMA was collaborating with NATTO (fermented soybeans)!!!
もちろん、買(か)いました!
I bought it of course!!
GUDETAMA says that "I can't stick to it like as natto (=sticky)." (Right photo)
GUDETAMA collection in my house
靴下(くつした)と文房具(ぶんぼうぐ)を持(も)っています。
I have a pair of socks and stationeries.
靴下(くつした)は、山口県(やまぐちけん)のお土産(みやげ)です。
The socks are the souvenir from Yamaguchi prefecture.
「せんないわ~」は、山口県(やまぐちけん)の方言(ほうげん)で、「面倒(めんどう)くさいな~」という意味(いみ)です。
"せんないわ~" is a dialect of Yamaguchi prefecture and it means "What a bother."
文房具(ぶんぼうぐ)は、福岡県(ふくおかけん)のお土産(みやげ)ですが、意味(いみ)がわからない方言(ほうげん)もあります。日本人(にほんじん)でも、方言(ほうげん)となると、わからない言葉(ことば)が出(で)てきます。
The stationeries are also souvenirs from Fukuoka prefecture. But there is some dialect which I don't know the meaning. Even if we are Japanese, when it comes to dialect, there are some words we can't understand.
GUDETAMA goods
さぁ、みなさんはもう、ぐでたまのファンになりましたね!
Now you must become a big fan of GUDETAMA!!
以下(いか)のサイトから、ぐでたまグッズを購入(こうにゅう)することができます。
You can buy some GUDETAMA goods at the sites below.
Thank you for your reading!!